UX/UI Designer
Full time
Belgrade, Serbia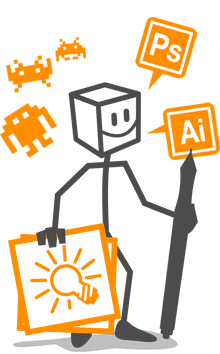 We are looking for UI/UX Designer to join our team in Belgrade, Serbia. At Qube you will be working with other artists to create web layouts and mobile marketing campaigns.
Responsibilities:
Collaborating with designers, product managers and developers in all phases of the product delivery life cycle (Discovery, Research, Strategy, Design and Testing)
Building wireframes, prototypes and doing the visual design of final products
Designing stunning UI for our app
Designing marketing materials
Presenting and communicating design solutions to stakeholders and product owners
Create, maintain, and export production-quality graphic assets
Collaborate with other designers, artists, developers and product managers to generate effective design solutions and receive feedback
Be a self-starter. As a resourceful and resilient self-starter, you'll thrive in a fast-paced environment where initiative and innovation are required
Know how to produce content quickly without sacrificing quality
Working effectively in a deadline driven environment and having the ability to juggle multiple projects
Requirements:
Ability to create polished, visually appealing, user friendly, consistent and distinct user interface art assets (e.g. menus, buttons, icons and animation etc.)
Expertise with Photoshop and Illustrator
A well-developed sense of colour and composition
A substantial interest in form and typography
A portfolio showing your talent and flexibility
Relevant education and/or work experience
An excellent teammate with great communication and organisation skills
Proactive in learning and developing your skills to the next level
Strong branding abilities
Passion about games, with an understanding of game-play mechanics
Ability to thrive in a fast-paced environment with many projects running at the same time
Excellent verbal and written communication skills in English
Our Main Focus Is Investing In People. We Offer You:
Exclusive, interesting and innovative projects
Competitive salary and compensation package
Excellent working conditions
Career and personal development
Friendly and professional atmosphere
If you feel you meet the above requirements and find this is the kind of career opportunity you are looking for, please, send your CV in English to jobs@qube3dstudio.com.